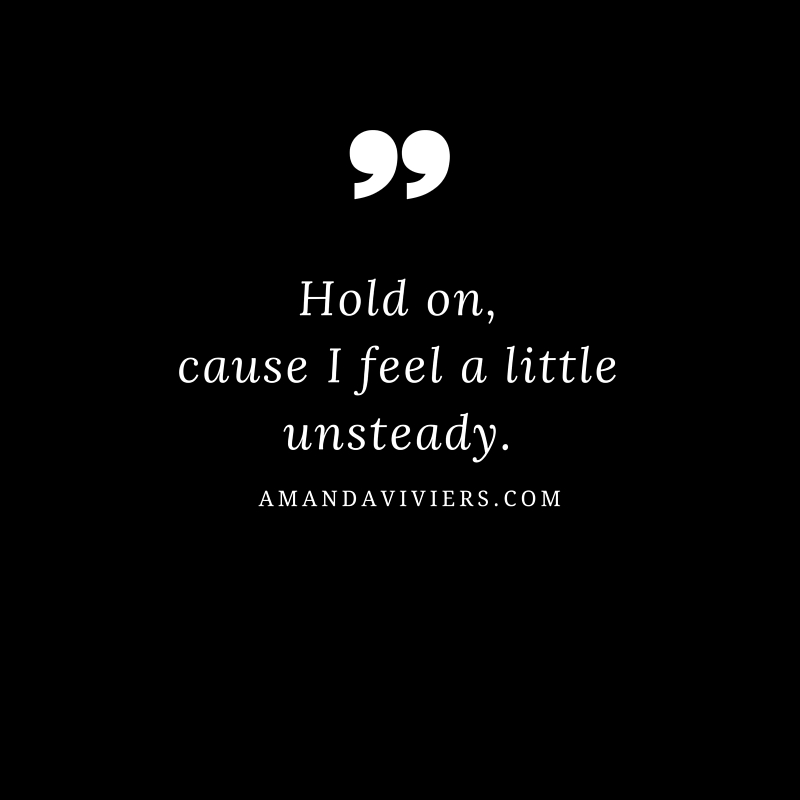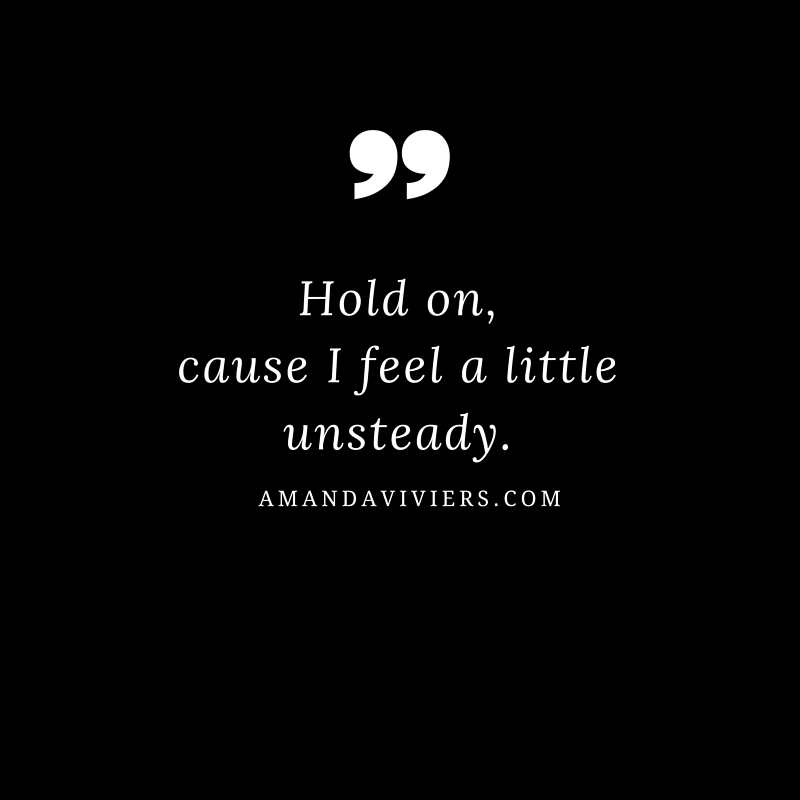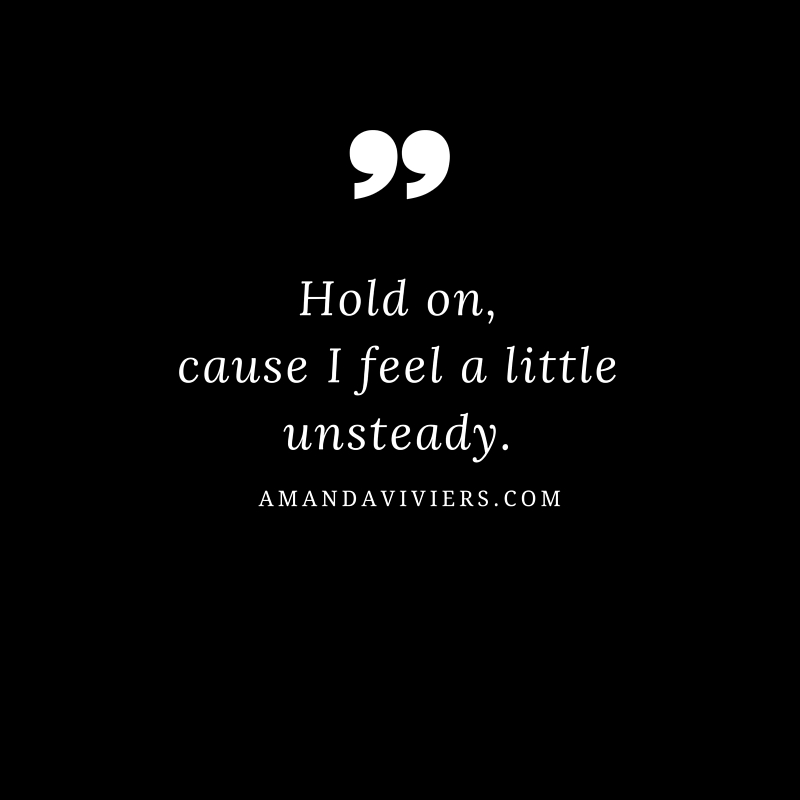 Eight weeks in and I have been to the gym each week on Wednesday morning. It has become my ritual, my reward and I finally feel like it is an anchor point to my week. The last eight weeks have also included, selling a house, buying a house, travelling to speak at a women's conference, ripping out a laundry, smashing apart a bathroom, surgery and it has all made me feel a little unsteady.
I'm not upset or exhausted, just unsteady. Trying desperately to refind my place again. The crazy thing is when I personally go through seasons of change, I often decide I am going to question everything.
Where do I belong?
What am I doing with my life?
Who am I again?
And mostly how do I find my balance again, cause I feel unsteady.
I long for a steady place that makes me feel like everything is in balance, but I learnt a long  time ago that balance is unattainable. Balance is a scientific term, that requires everything to align, to find the right fulcrum point. We, however, are in a constant place of change, so aligning everything, to a perfect balance, is a shifting requirement and as soon as we have the elements arranged life changes. Other people impact our day, tragedy comes and life keeps moving.
These unsteady days I have been working on a new rhythm, one that doesn't rely on anyone else to make it happen. I've been calling it my weekly scaffold. We have two professional scaffolders in our family and their work is all about preparing a place for people to build. It is when the scaffold is safe, secure and planned, then the building can begin and can be done with strength.
What holds the scaffold of your week together?
Rather than "How do I balance everything?"
What are the boundaries that create steadiness in the midst of your ever changing week?
These are some of the life hacks I have been trying to implement into the scaffold of my week. I am not looking for peace, balance or perfection because I know that life brings challenges, disappointments and decay. I am looking for great intentions that help steady me in the unsteady places.
Water;
I am learning to fall in love with water again. Water is a privilege to the scaffold of my week, not a right. And in the past, I have shrugged my shoulders when a drink is offered and it happens to be water. I even speak this way "I'm sorry, all we have is water." If I am out, even if all I want is water, I will order a coffee or soft drink or anything but water. In other countries than my own, running water is a total privilege. So in the scaffold of my days, I have been increasing my respect for the gift of water. When I drink, I am engaging in the moment and being thankful that running water is a gift in my today.
Movement;
My weekly class at the gym has become the anchor to my week. I am reminding myself that being able to move, being a full-bodied adult is an absolute privilege. Watching the movie "Me before You" last week I was so deeply reminded that running, walking and moving is something that I take for granted. I have been learning to thank my body for the way it works. I have had such a bad relationship with my body in the past. Many, many times I have hated my body and felt like it has let me down so often. I have hated my metabolism, I have hated my legs, and I have stood in front of the mirror and seen every part of my body that I have not liked. I am learning that movement is such a privilege and I am changing the way I see my body and thanking it for carrying around this crazy, big-hearted life.
Music;
Just a couple of months ago I filled my car up with music that lifts mine and my children's souls. I downloaded playlists and included a lot of classical music and I intentionally turn up the music and sing my soul clean as we drive around. In the midst of such drastic change and as we all seek to find our place again, we have been singing our hearts out to music that heals. These moments in our week, as we drive around have become our anchoring point, rather than a place of stress and hurry.
Rituals;
Each night as the clock swings softly past six pm, I walk from room to room and switch on lamps. I light candles, I spray essential oils and I change the night time atmosphere. Dinner is often done by 5.30 for the children and quiet time across our house ensues. I turn off the television, especially from the news. I detach my family from the stress that is pumped daily from our world that is groaning.
Sabbathing;
Another scaffold that has been firmly a part of my week for the last couple of months has been a sabbath day that is media and phone free. I am learning that being connected every day, every hour and every moment to the world that is shouting its opinions and ideas is not great for my soul. I need to detach myself from you. I need to be free from the constant buzz of noise. I need to walk and think, pray and feel. Sabbathing unpacks the parts of me that wrestle to find expression.
Mondays;
Every single Monday night we gather. My tribe gathers. Most of us put our phones down. Everyone brings a dish. I snuggle my nieces and nephews, I hear stories of netball grand finals and new obsessions. My Dad and uncle drink a bottle of red wine and the kitchen is always the place of secrets and hushed news. My kids run around in the garden, they run up the slide the wrong way, they throw sand at their cousins and we watch with a wry smile. We invite people into our little village all the time. Many of them don't understand us and we are a little loud for others, but this rung in my scaffold is important. It is my anchor point that my life is built upon. Every week. Every silly Monday. We rock up. We pull out the cutlery, table cloths are swung over tressels and we eat.
Dancing;
My Tuesdays are for dancing. Yesterday we went to the parent teacher viewing of my son Maximus's dance class and it was hilarious. Apparently, he is up the front of the class every week as the assistant teacher. He doesn't like being in the line with the other children. Tuesday morning, I dress up my little Libby and together we dance around. Often in the most stressed out times, you will find a dance party ensuing in our house. Music is lifted, shoes are kicked off and we dance away the pain. Dancing stupid dances that make us feel free. Dance is a scaffold piece to our week and it is one of my favourite parts.
Little Tidies;
Every morning, before I leave the bedroom I make the bed. It is a simple little tidy, that changes the way my day begins. Every night, before I settle in to write, knit or watch my favourite shows I do a little whirlwind tidy. Dishes are washed, clothes are taken to the laundry. My little burst of tidies, keep my house in order but more than this I feel so much more able to relax and ease into my night time rituals and eventually fall asleep. It is funny, whilst chatting with a friend at the gym this morning I realised why I have struggled to write through this season of transition. I am struggling to write because our office studio is full of all the bits and bobs in our house that haven't found their place yet. We struggle to express ourselves fully, sleep fully and find the peace we are looking for because there are places in our spaces that are disorganised and chaotic. Little tidies, every single day, create a scaffold of inspiration for our week.
5 mins with Kym;
Every weekday, pretty much without fail, one of my closest friends calls me. We now live in different cities with different time zones, with four babies between us and a whole heap of entrepreneurial-ing. Every day as she is driving home to pick up her babes from daycare, we have a chat. We have a theme song "five minutes with Kym." and we sing away, then we quickly debrief the happenings in our today. We talk about everything random and then sometimes it is just so deep and pain filled. But my five minutes with Kym is my little lifeline. She's a scaffold in my day and I am so grateful for her beautiful presence in my daily life. We never talk longer than five minutes but it changes my crazy 4pm wrestles. She makes me feel okay in the midst of my unsteadiness.
Hugs;
Every single morning I demand a long hug from my children on the couch. My husband makes me a coffee and I say their name individually and they come hug. We breathe, we snuggle and we wait. They pull away and then I pull them back again. I ask them how much I love them and often the answer is one million Jetstar aeroplanes. At the end of the day, no matter what has happened in the crazy of the day, I hug my person. I hug him for more than a few seconds. We realign ourselves. We remind ourselves and I always tell him how proud I am of him and his amazing pursuits. I tell him that we are grateful for how hard he works for our family. We lean in. We thank and we say goodbye to the day. Every single day.
These are ten little life hacks that are imperative pieces in the structure of my week. They make me feel steady even when everything around me is falling. They are places of comfort because they create the structure of our families week.
What is the scaffold of your week?
What are ten things you do every single week that create security and comfort?
These, my friends, are the things that bring a feeling of balance, even when everything is changing and shifting.
Speak again tomorrow
Amanda