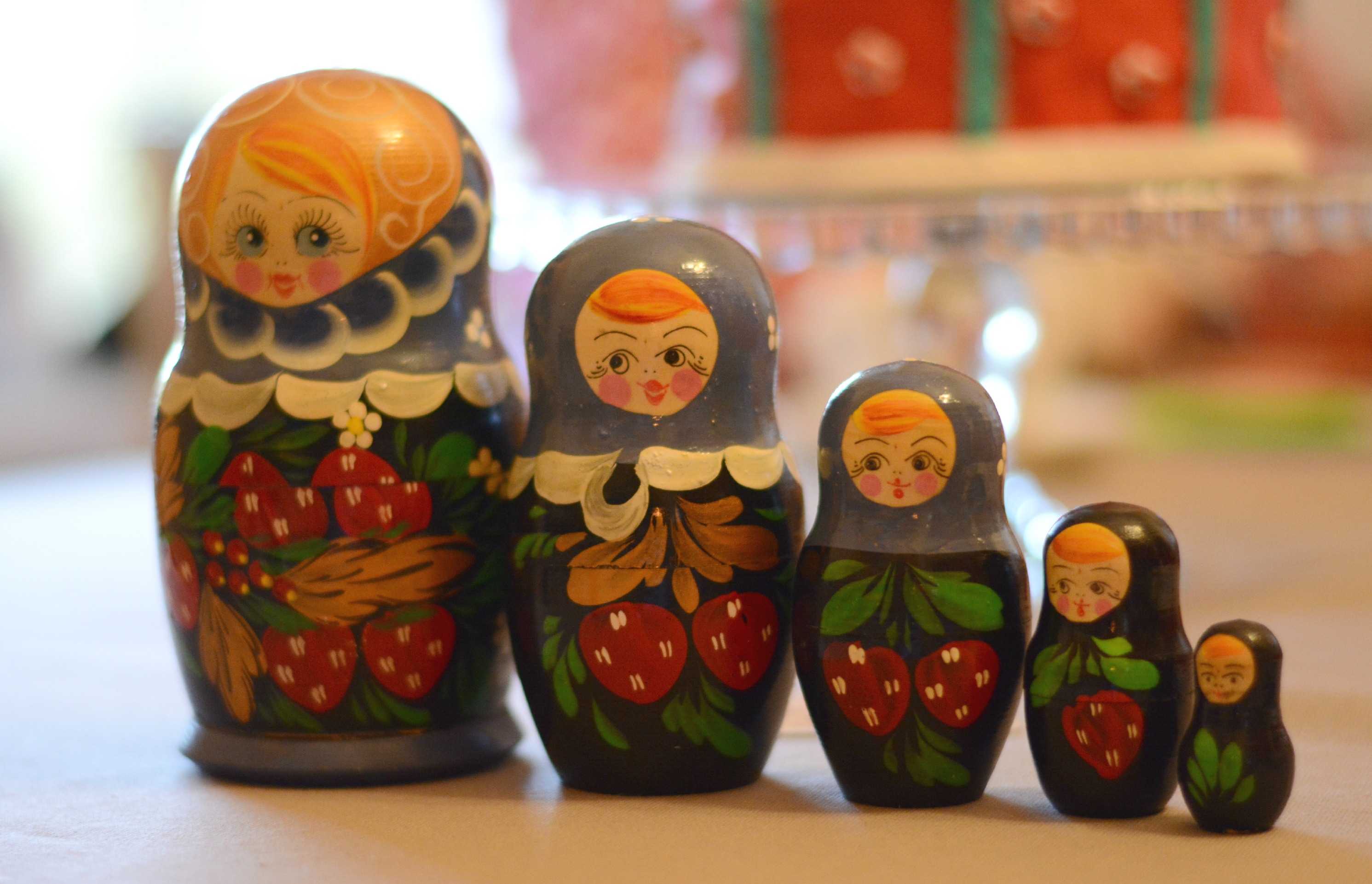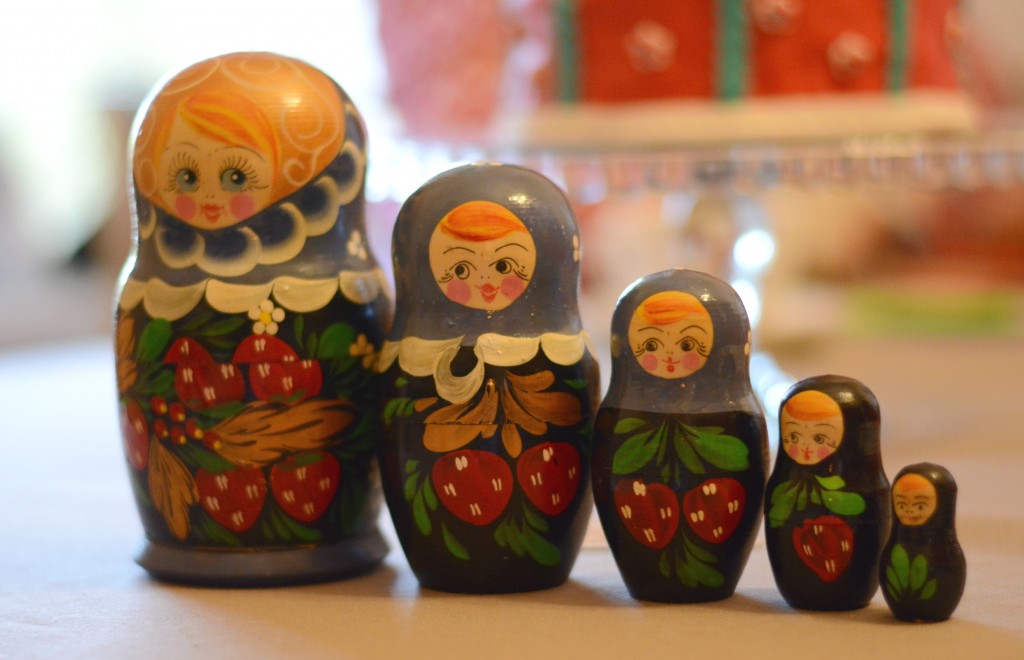 One of the only toys that have made it into my adult life from my childhood is this set of russian nesting dolls. I remember one very normal morning, my Dad was leaving to catch a plane to work in Russia somewhere and as he left I whispered, "Dad can you buy me some Russian Nesting Dolls."
My Dad is an extremely light traveller and he rolled his eyes.
When he arrived home a few weeks later he told me the tale of these little dolls. He was travelling on a train in rural Russia and a lady was walking the train selling her goods, which included this homemade Matryoshka Doll Set. My Dad said he immediately bought them, not worrying about the wood or customs, that they were perfect for his daughter.
The reason I love these dolls so much is they speak of generations of women, that we each hold inside of us. These dolls are always carved out of the same wood, so that they can stack inside one another, even when the wood, warps and breathes. Isn't it amazing that wood breathes and every generation of doll inside one another breathes together.
Another beautiful part of the dolls, is that the smallest baby of the set is always made first. The wood artist, forms the youngest of the set, then every woman is shaped around her.
Every part of this tradition is steeped in legacy. The dolls are all about leaving a creative legacy for future generations.
A woman of wisdom is made of the same ilk
She is always thinking about the legacy she is leaving for those to come. Her daughters, daughter. Her sons, son. She is intentional in the way that she provides and protects her future generations in the ways that she deals in the present.
Wisdom asks that we let go of that which has hindered us and leave a legacy of hope for our coming generations
Proverb 31: 28 and 29 says it this way
"Her children arise and call her blessed; her husband also, and he praises her:

"Many women do noble things but you surpass them all."
The reason why this writer says that she surpasses them all, is not because she is perfect or without fault.
She is brilliant, because she seeks wisdom and truth by living a life beyond herself.
One of the most difficult age groups I have ever worked with is teenagers. They are challenging because they are often overwhelmed and bombarded with emotions and disappointments. Often in my experiences, they are very angry and explosive when you ask them about their parents.
They may have the best clothes, they may be enrolled in the best schools and often they have every toy, technology or need overwhelmingly met. However most teenagers are angry, distant and struggle with their parents, because a legacy of communication has not been instilled in their household.
One of the wisest things that we can do as parents, is to deal with our internal noise appropriately, so that we are not labouring our children with its heaviness.
The result of lack of wisdom in our home environments
I often see two types of teenagers.
The ones whose parents tell them everything and they are overwhelmed at the intensity of the information or the ones whose parents hardly communicate at all with them and they are frustrated.
Legacy is often spoken about in terms of inheritance; how much money we leave behind for our children.
What if the legacy and inheritance was so much more than this?
What if our children walked into freedom in speech and emotional resilience, because we left a healthy legacy of communication as their gift?
I am determined to stop any generational cycles of emotional dysfunction that have been passed down. I want to teach my children to talk openly and to not keep secrets. I want my kids to know that they are always first in my attention. I don't want them to ever feel like they have to fight with others to gain my attention.
The legacy that I am hoping they will inherit, is living a life knowing that they are known, loved and valued. Showing them that they are my absolute delight. At the same time I will show them the consequences of their actions and discipline them in times when it is required.
A life of wisdom, walked out year in, year out.
A life of legacy, that greatly impacts the coming generations.
A woman of wisdom looks beyond her little world and sees the people that are to come.
Her children called her blessed, they praise her, because she has sowed significantly into their lives.
Legacy is far more than money, imagine a generation of children who have a legacy of hope and wisdom to walk freely into.
To read the next post: She knows the power of her words