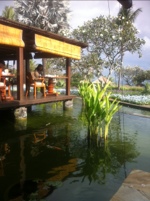 Place: Ayana
Poison: Flat white
Favourite things: travel
I had a major dose of perspective today.
I sat overlooking an infinity pool, with my mum holding my little son, drinking fresh coconut juice, reflecting on the very present moment with gratitude and grace.
I was overwhelmed in the moment relishing in the fulfillment of Gods promise in my life. I started to become quickly aware it was now time to start dreaming anew.
Finding myself a new dream.
Having a family, traveling to distant places, spending intentional time with my mum, a husband, health…these are all dreams that are currently fulfilled.
Life has become a little dreamy and without the stretch, that's where fear has crept in.
Fear trembles in the presence of faith.
Faith in me rises at a challenge.
Challenge is a little lacking right now.
Time for dreaming some bigger dreams.
Time for some writing I think.
Time for a change.
Gratitude makes fear flee.
Faith makes fear tremble.
Dreams bring about desire.
Deep breath and reflection required this week.
Challenge me lord I pray
A