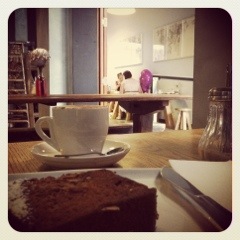 Place: car
Poison: hot soy milk
Favorite things: being challenged
Tonight I listened to a speaker called Sam Childers, who is the man who is the main character from 'The machine gun preacher'.
There is so much about his philosophy of ministry that I struggle with, but I can't deny that this guy lives a life passionately following the cause he would die for. The people of South Sudan and child soldiers who he rescues and shelters.
Tonight made me seriously consider what I would die for and what I live for…one thing I have been thinking about is friendship; deep, kindred friendship.
I think in some ways I would die for and live for friendship. Loyalty is one of my deep passions. It's something that runs really deep in my family and therefore has been birthed in me.
When I develop a friendship with deep purpose alignment, honestly I would stand up for them in any setting.
The thing I find hard with loyalty, is having the strength and capacity to transition seasons well with my friends, to keep them in my inner circle, with loyalty but also releasing them into the new season they are entering.
As a novice mum, I want to sit up all night talking, I want to leave my plans open ended and live in the moment, but I can't sit at a coffee shop till 3am anymore. I have breast duty. I have little man duty. I am not a single, responsibility free, twenty year old, I'm a mum.
I think the true test of friendship is the ability, to transitions seasons well. To let friendships go, that need to be, to hold tight to friendships that you need to fight for and to know the difference.
Often I am disappointed by the expectations I have in friendships, because I literally would give anything for my friends. The ones who are closest to me, I would sacrifice, listen, give, help, do anything they asked of me.
But not everyone holds those same principles and nor should they.
I am learning to let go of my expectations, let go of my disappointments, let go of my pre conceived should's in relationships and to transition seasons well.
Passion, loyalty and expectations can be big enemies in transitioning seasons well.
I am trying to learn to make them my friends…
A