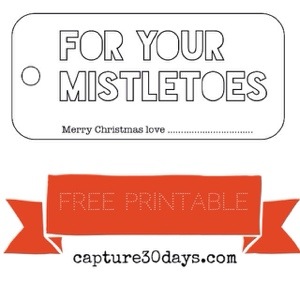 Last Christmas I released a Christmas E-book full of homemade ideas.
Capture: 30 merry days 'a creative guide to christmas kindness'
We all get a little stuck when it comes to affordable and unique Christmas presents for the people in our worlds.
I hope to shed some light on the meaning of Christmas and in a creative, fun way, give you ideas and ways you can be more creative and kind this Christmas.
Each day of the new book has a different recipe, instructions or directions on how to make a home made gift for someone this Christmas.
The tag says
'For your mistletoes…'
In preparation for the launch of the book, here is the printable for free:
Enjoy making creative Christmas presents this year and stand by for my e-book release very soon.
Love