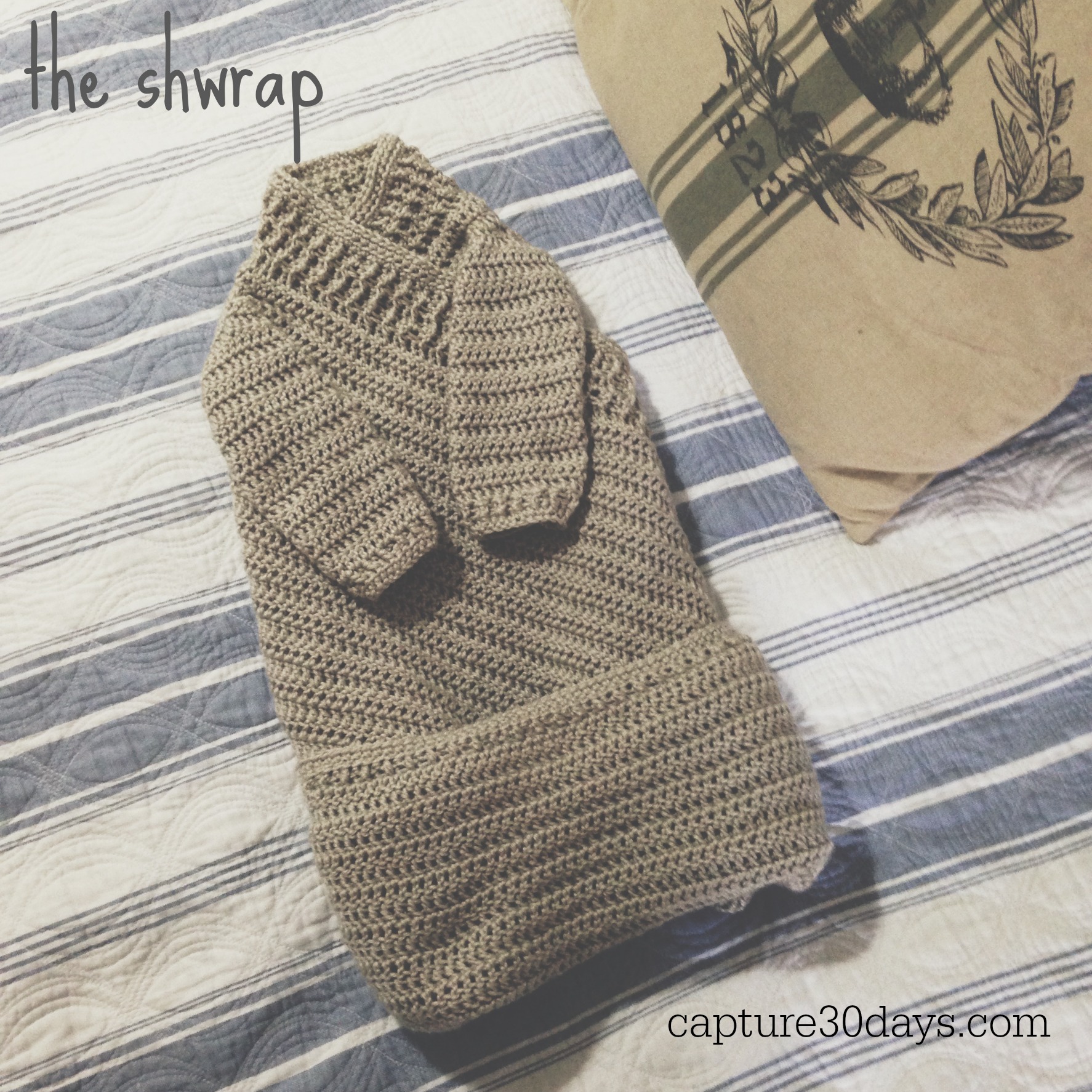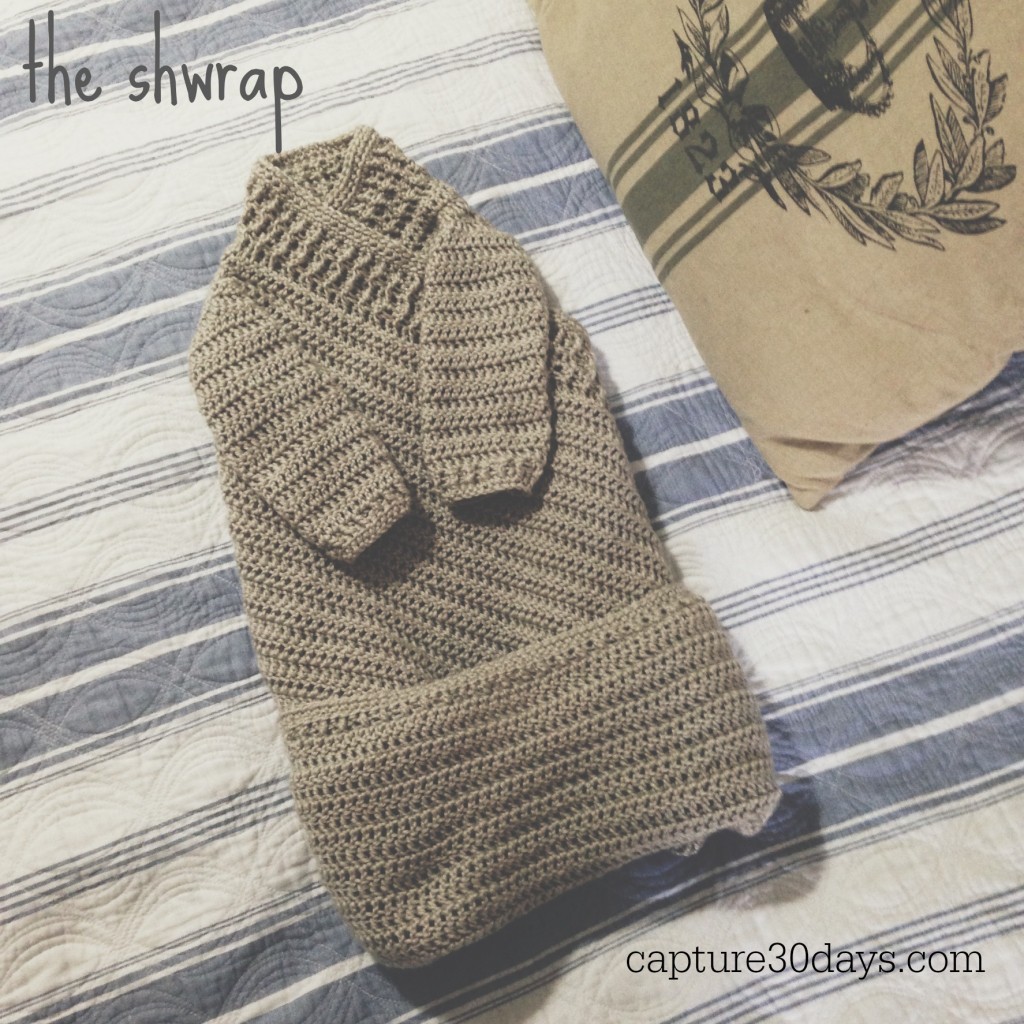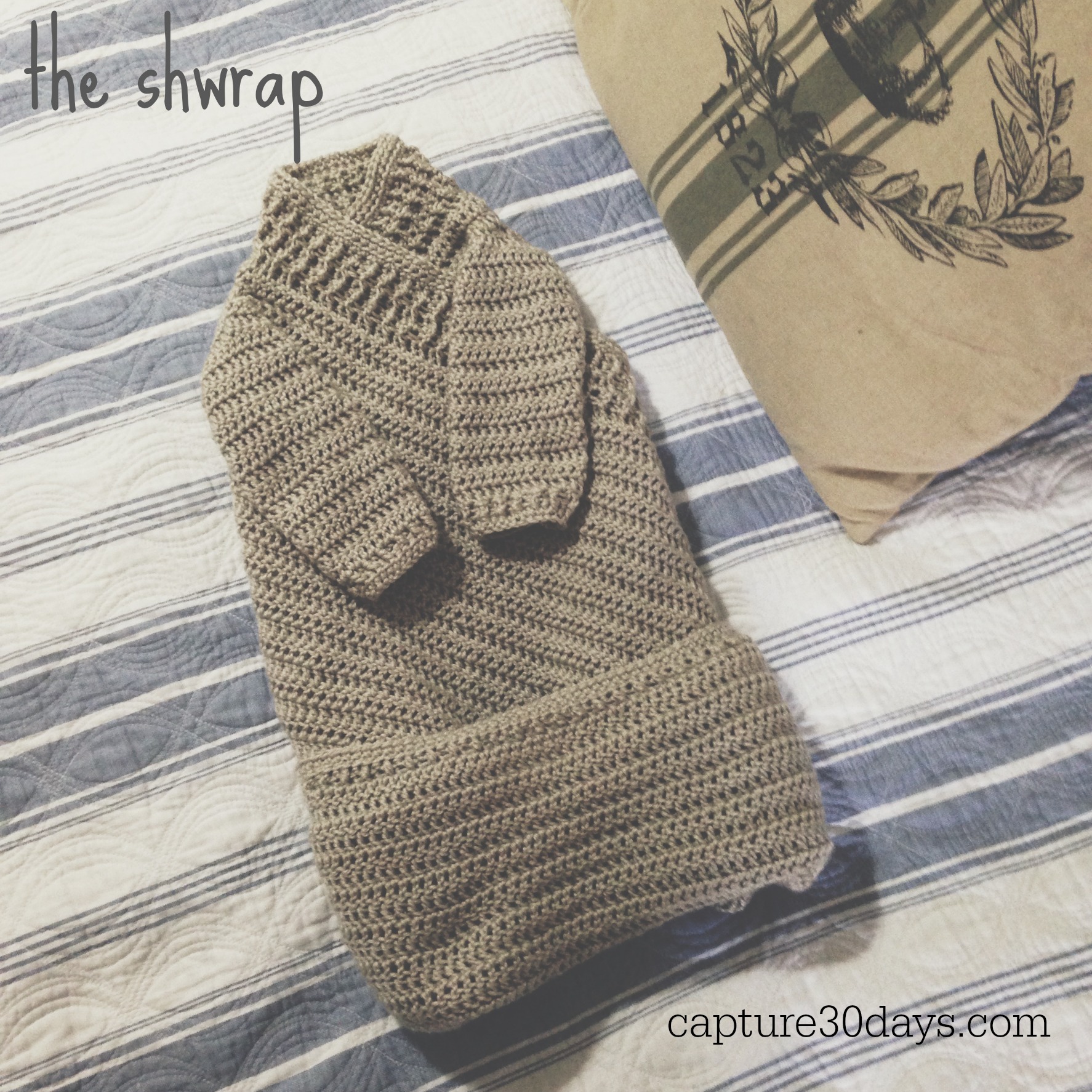 Lately I have been playing around with a pattern I made up for little miss v. The pattern below is very loose and can be converted into a shwrap from any rug pattern and any sleeve pattern. It is more about the measurements of the rug, than the individual stitches, if you have made quite a bit in crochet you should understand my musings.
It is a combo of a rug, a cardigan and a baby cocoon wrap. It is perfect for a new little baby in winter and is surprisingly simple.
It is basically any crochet rug pattern, with two slits left to insert sleeves up the top and then finished off as a rug.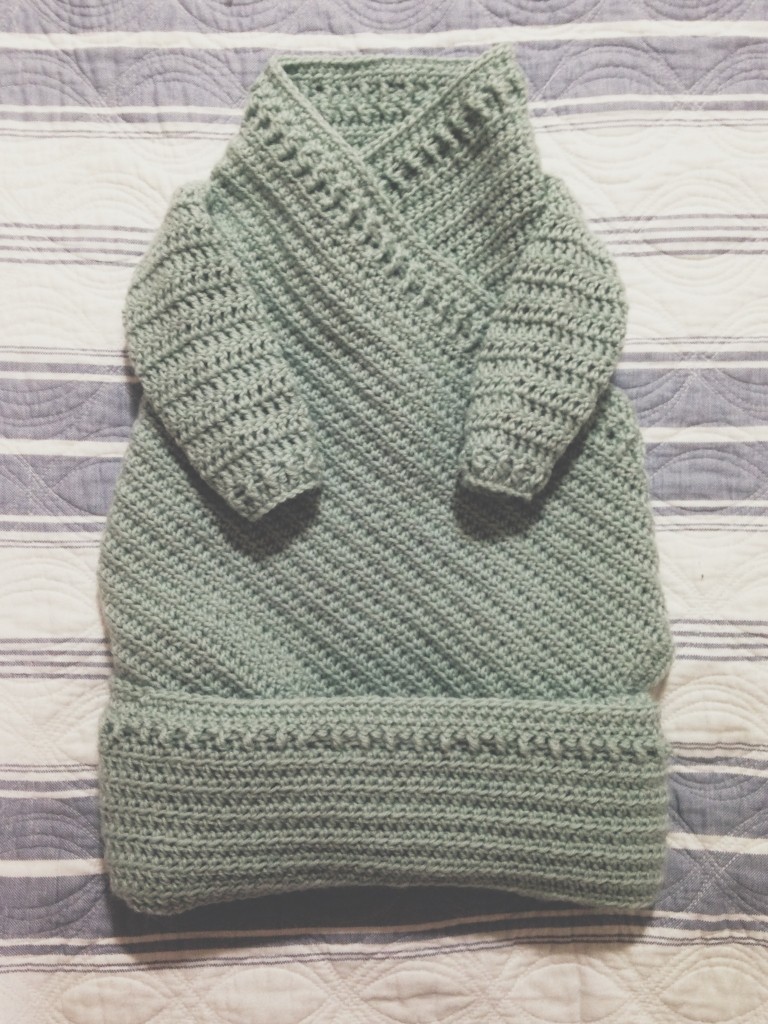 Finished size newborn;
(mint green) 90cm across and 60cm deep.
1) Basically I did a half double crochet (2 chain at the end and turn) the whole blanket for the newborn blanket, until the blanket was 45cm long.
2) At the row that marked 45 cm's deep, I half double crocheted in 36cm, then I chained two and went back to the start, turning again doing 4 rows like this, until I had a slit big enough for the sleeve.
3) Then I went to the 45 cm mark and started a new row with two chains and made the back between the two sleeves 18cm long, then I chained two and went back to the slit that was now made at the 36cm mark, repeating 4 times to create a back piece in the middle.
4) Then I started at the 54cm start (36cm first slit, plus 18cm second slit) with two chains and repeated the row again, to the end of the blanket, turned two chains and went back to the 54cm split and repeated 4 times.
5) At this point, my blanket now had two slits to insert two sleeves. (depending on the finishing size of your sleeves, you may need to make these slits a little bigger.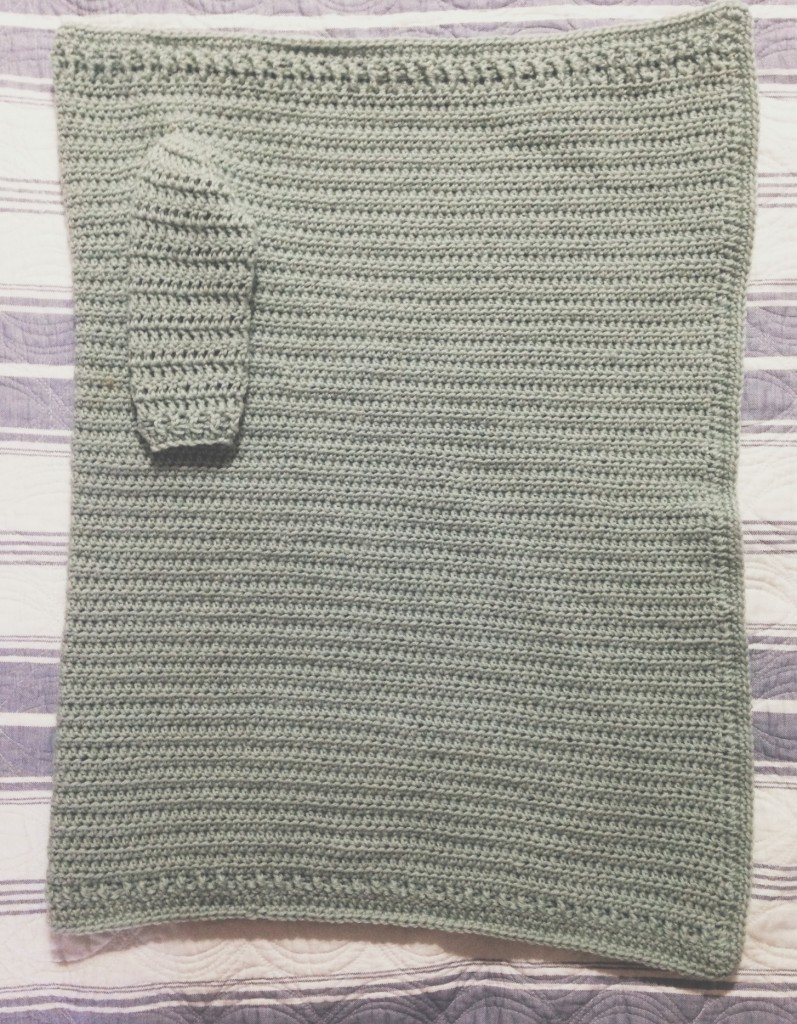 Sleeve;
ch 29 Foundation row: 1 hdc in 3rd ch from hook. 1 hdc in each ch across. Ch 2. Turn. ( I added in a ribbed row cuff here: which is fpdc, bpdc repeat around)
next 2 rows: 1 dc in each st to end of row. Ch 2. Turn.
next row: 2 dc in first st. 1 dc in each st to last st. 2 dc in last st. Ch 2. Turn. Keep even till sleeve measures 19 cm's. On last two rows omit the 2 chain at the end of each row.
6) Stitch the sleeve together under the arm, to the forearm. So it looks like a little tube.
7) Line up with the slit on the blanket and stitch around the shoulder of the sleeve.
8) Finish off the rows for an extra 8cm to finish off. I did a couple of rows of Half double crochet, then I did two ribbing rows; fpdc, bpdc repeat around to make the ribbed cuff. (on the fawn wrap above I did 4 ribbing rows for detail)
9) Then I finished off the whole blanket with a row of half double crochet right around the edge to finish off.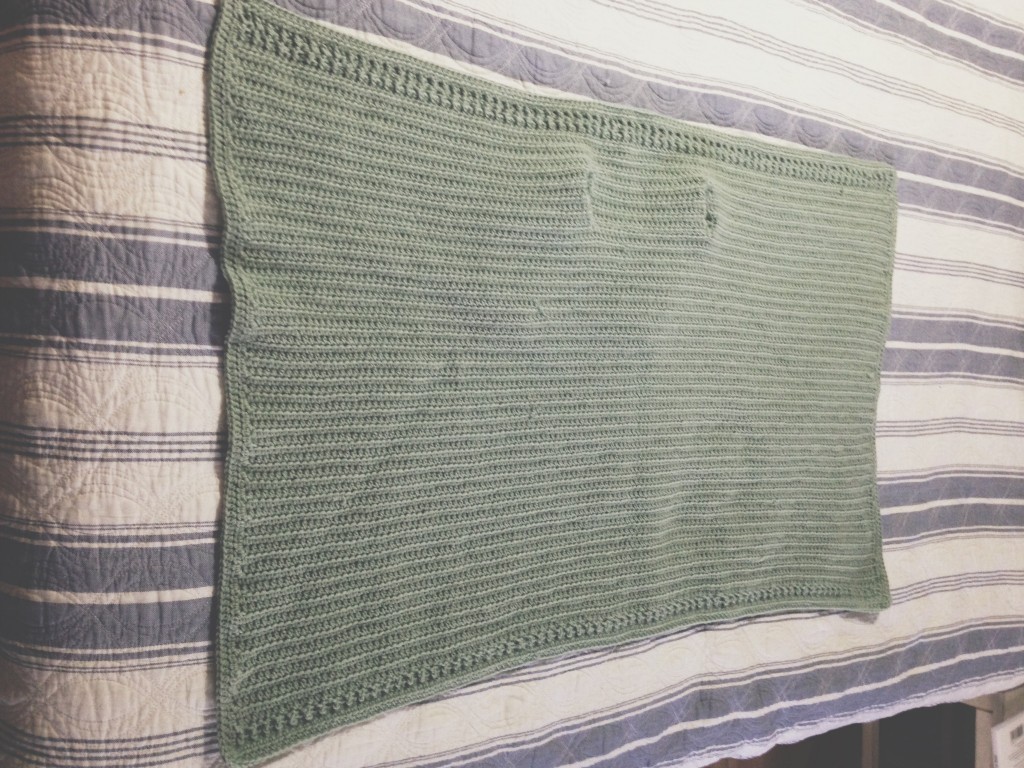 I hope you love it just as much as I do.
Feel free to share, use, do whatever.
Just make.
Love