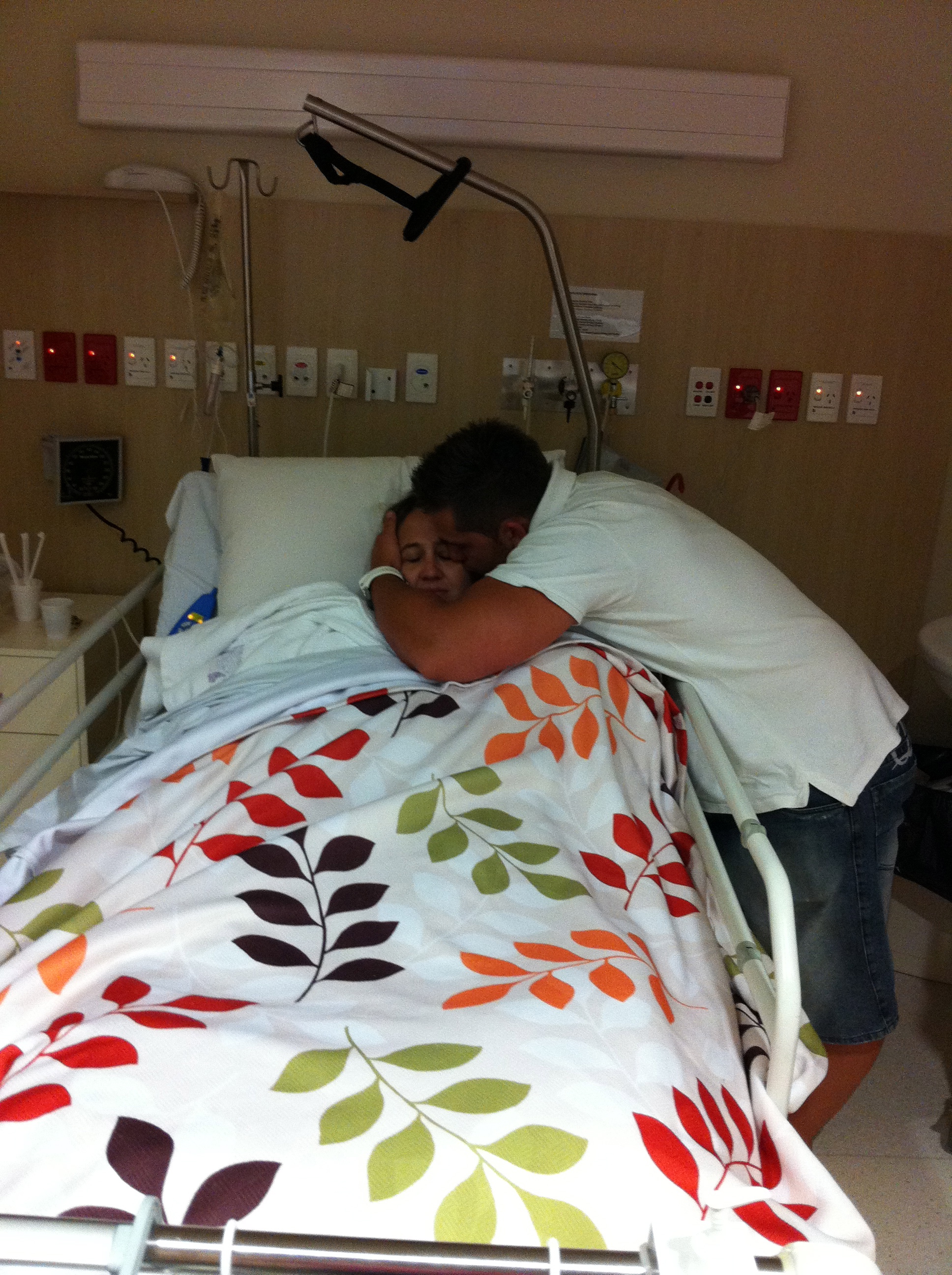 Maximus Andries Viviers | 26th of February 2012
My waters broke in quite an extravagant fashion that morning, it was 8am on a Saturday and we were just nestling in ready for a sleep in with my 38 week old belly. My husband and I had only been married for 10.5 months and our honeymoon baby was ready to be born.
We had no idea whether it was to be a boy or girl, so our hospital bag was packed with white and lemon, with little gifts we had selected along the way of our quick detour to parenthood and family life. I had made a commitment at the beginning of the year, that no matter what happened, my first year of Novice Motherhood I was going to blog. Writing had become my therapy, in the midst of my ever changing body and life.
As my husband picked up our carry all and grabbed the keys to the car, I asked quietly if we could stop at the cafe on the way to the hospital. His dear in head light look, will be one I will never forget, but I knew that the next few days were going to be very short on coffee and super long in exertion.
So he walked nervously inside and I sat in our car and wrote my blog post the promise for that morning. After a big day of contractions, hesitant conversations and so much pain, the midwives sent me home again, to wait for my body to be ready to bring our baby into the world. I was so terribly nervous, unsure. The funny thing about being sent home, was we were in the midst of renovating our bathroom, so there was a tiler at home whilst I was in labour, he was finishing our bathroom.
I am not sure what he thought he had gotten himself into, tiling away, with a woman in labour in the next room.
Our Saturday was full of pain, music, candles and big courageous, what is actually going on here. Giving birth is so overwhelming and the not knowingness is always so difficult for the novice. They told us not to come back to the hospital unless the contractions were closer together and I couldn't handle the pain any longer.
At 10pm that Saturday night, we drove back to our local hospital and I was hooked up to the monitoring machines again. As soon as the stickers were placed on my contracting stomach, the midwife went ashen and she rushed out of the room. Within minutes a doctor raced in, another midwife returned and they asked me to remove all my jewellery. It was all happening so fast, but within minutes I was being raced down the corridor to surgery for an emergency c-section.
Charl and I tried to laugh that we felt like we were in a episode of grey's anatomy, but I was overwhelmed at the thought of what if? Our little babies heart beat was dropping suddenly with every contraction and his life was at risk.
Within minutes we were rushed through theatre, my husband ran in wearing the blues and the epidural was the most painful experience of my life as they tried four times without success to get it inserted in the midst of contractions. I was one try away from being completely put under and within seconds I was opened and my blue baby boy was removed from my body.
They found his umbilical cord wrapped around his neck twice and he was being strangled by every contraction that pushed him downwards.
These hours of my life were my most vulnerable, but my most precious.
Every part of me ached, I was confused by the surgery but so deeply grateful that my little person was okay.
The recovery from an emergency cesarian was quite difficult.
Four years ago on this day, everything changed for me.
Motherhood asks so much of you. It takes faith to believe that our littles will be okay, it stretches every part of my body, soul and mind. Motherhood asks that I will be lavish with my time, my sleep and my patience.
It asks of me even on the days that I am feeling unwell or under-appreciated.
It consumes me.
It frustrates me.
It completes me.
It breaks me.
It is impossible to be stingy with our motherhood, because it is never ending in its ask.
After four years of hanging out with this little man of strength, I still feel like a novice. I still get overwhelmed, I still worry if I will break him, I hope so much for him. This week I watched the movie Suffragette and afterwards I was so deeply moved that in the darkness of the night, I laid in bed with my little soul and sobbed.
When he was born we posted a quote from Gladiator that Maximus shouts in the arena.
"Brother, what we do in life, echoes in eternity"
Today I am grateful that this little soul and his dramatic entrance into the world forever changed me. It asks of me to love even when I am not sure I have any love left in my heart to give. It calls me to give, when I am not sure I have anything left to give. It teaches me about my own soul, even when I think there is nothing else left to learn.
It echoes the heart of a God, who gave extravagantly, even when he didn't want to.
"I am not moved, my God, to love you By the heaven you have promised me. Neither does hell, so feared, move me To keep me from offending you. You move me, Lord, and I am moved seeing you Scoffed at and nailed on a cross. I am moved seeing your body so wounded. Your injuries and your death move me. It is your love that moves me, and in such a way that even though there were no heaven, I would love you, and even though there were no hell I would fear you. You do not have to give me anything so that I love you, For even if I didn't hope for what I hope, As I love you now, so would I love you. ANONYMOUS SPANISH POET, OFTEN ATTRIBUTED TO JOHN OF THE CROSS (1542–1591) 4"
Day 27: I am learning that Motherhood challenges every single part of us and it echoes in eternity.