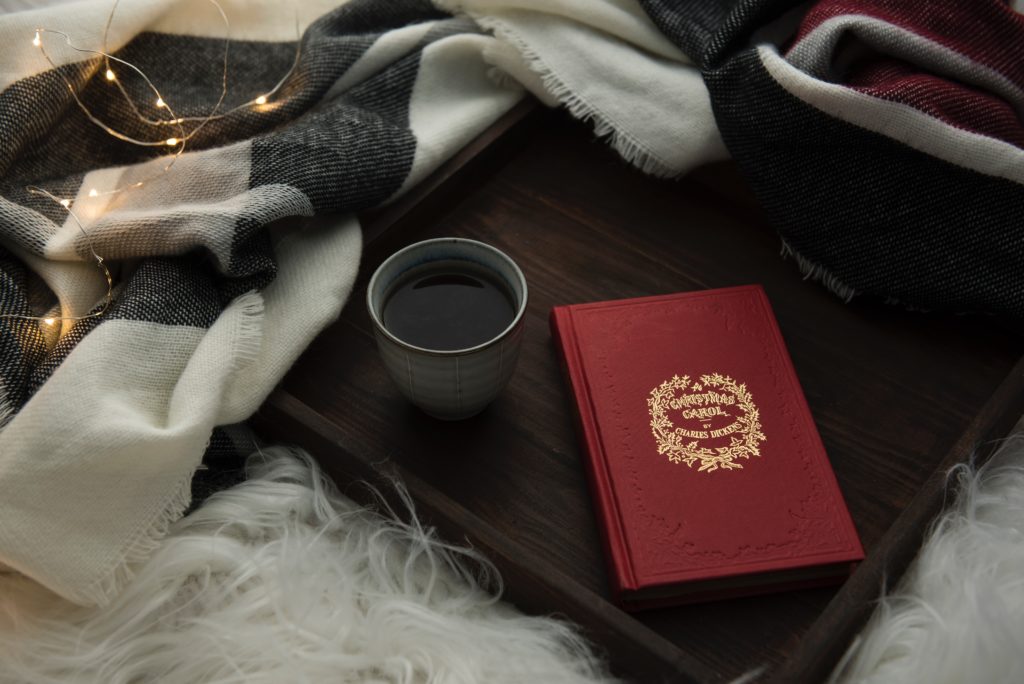 Across the year, I set myself a goal to read fifty books. I increased the amount of fiction I was reading as well, replacing all the "Self Help" books, because my poor family couldn't handle another intervention.
So here I am at the end of this year, and I wanted to write a list of my favourite books from this years reading-list and suggesting them through Book Depository as a great gift idea for the different readers in your world.
Novel Reading Kids:
THE CHRISTMASAURUS
(BUY HERE WITH FREE SHIPPING)
This book was such a favourite of my kids as we read it as a whole family leading into 2019. It is a story about a boy named William Trundle and a dinosaur named the Christmasaurus. They meet one Christmas Eve and have a magical adventure. It's about friendship and families, sleigh bells and Santa, singing elves and flying reindeer. It's about discovering your heart's true desire and learning that the impossible might be possible.
Edgy Novel Reading Mum:
CITY OF GIRLS
(BUY HERE WITH FREE SHIPPING)
Beloved author Elizabeth Gilbert returns to fiction with a unique love story set in the New York City theatre world during the 1940s. Told from the perspective of an older woman as she looks back on her youth with both pleasure and regret (but mostly pleasure). If you have an edgy, novel reading Mum in your life, who needs a little cheese platter, champagne and a great novel, this book is brilliant.
Self Help Leadership Fiend
DARE TO LEAD
(BUY HERE WITH FREE SHIPPING)
I couldn't compile a list of my favourites without including Brene Brown. Her writing and her leadership teaching are changing the world. This book is perfect for the leader in your life, that is looking for inspiration for their teams and work.
Storytelling Writer Friend
YOUR STORY IS YOUR POWER
(BUY HERE WITH FREE SHIPPING)
I read this book this year, and it changed the trajectory of my writing and speaking and helping us come back to the power of our individual stories and the healing nature of storytelling. This book is a brilliant pick for your storytelling writer friends and those wanting to learn more about their story.
Your event organising retreat friend
ON BEING HUMAN
(BUY HERE WITH FREE SHIPPING LINK)
As I travelled through Asia, running a retreat for a fantastic group of people, I would go back to my room and read this book, spellbound at the timing of it landing on my bedside table. This book is all about the power of retreats and events to help you celebrate being human. Jen Pastiloff talks about her gradual hearing loss and the need to learn to listen with her whole body. She is a yoga teacher, so if you get freaked out by this, then this book is not for you. It is a beautiful read and makes you want to run off to the vineyards of Italy and sing loudly with friends.
Novel reading best friend
WHAT ALICE FORGOT
(BUY HERE WITH FREE SHIPPING)
I have read most of Liane Moriarty's books this year after devouring the television series "Big Little Lies" last year. This book is my favourite book of all of the books I have read this year from this prolific writer. Alice loses her memory amid a divorce and a new life that has awakened before her, begging those around her to go back to who she was before. A quick and easy, fun summer read.
A Christmas Read for everyone
THE SNOWMAN AND HIS SNOWDOG
(BUY HERE FREE SHIPPING)
Each Christmas, this book comes out from our dusty shelves, and we together listen to the soundtrack and get lost in the beauty of its design and story. Billy and his mum have moved into a new house, but Billy isn't very full of Christmas cheer, as his beloved old dog has passed away. So when the snow falls and Billy starts to build a Snowman, he knows what to do- he makes a Snowdog too! Later that night, something magical happens, taking Billy on the most beautiful Christmas adventure. Be sure to search youtube for this short movie also. It is a delight in our Advent Season.
For The Christmas Lover
THE CHRISTMAS PARTY
I have read four of Karen Swan's books this year, in this genre of Christmas Romance. Are you still my friend? It has been beautiful to dive into the stories of characters and think a little less. Swim in the lake of words and laughter, drama and discontent. This latest release is just that, simple, fun and a great Christmas present for your novel reading Christmas lover. Reading Christmas novels has become my guilty pleasure over the last few years.
Hope that helps with some simple fun reads this Christmas, bringing back paper over screens and allowing reading to become our favourite past time once again. Happy Reading friends.
Amanda Viviers