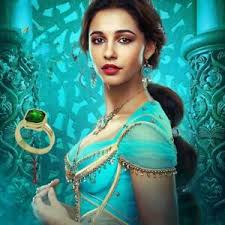 Last night I snuck under an Arabian tent, with a snack of hummus in hand, leaving behind the stress of my day and watched the preview of one of my all-time favourite films, here in Perth, Western Australia. I finished the evening walking out, overwhelmed by the colour, light and love of Arabian nights, wishing I had a magic carpet to fly me home.
Princess Jasmine has always been a strong character in the Musical Theatre repertoire of Disney's latest film offering "Aladdin" but there is a plot twist that the purists may not like.
In the popular 1992 animated film, she is depicted as a strong daughter of the Sultan of Agrabah, who is sick of feeling "stuck" behind the walls of their castle. She refuses to be forced into marriage and longs to become queen one day.
The new remake of this cult classic draws the story from this thread and smashes it wide open with a new song, Which I am sure will become a power ballad classic.
I was speechless as I watched her character find her voice and stand up to the patriarchal institutions that have held her silent. A tear dripped down my face and I remembered this quote I read recently:
"Daring leaders who live into their values are never silent about hard things."

Brene Brown
She sings loud and clear that "Enough is enough and I will make a change!" Reminding me a little of "Meghan Markle" and her real-life social media prison she married into and to blow convention out of the window and she has decided to do Motherhood in her own way. Feminism is being written as a backstory into the history of this cult classic.
Naomi Scott talks about her passion to bring little girls into wide spaces of emancipation here in this video below;
Will Smith, of course, wins the comedy card in this remake and the video production of his enactment of the Genie is brilliant. The sets, the costumes and production numbers don't disappoint but for me, the stand out of this movie is the continual theme of women in leadership in Disney's current season of remakes.
Empowering our girls to know that they can indeed change the course of history. And the last little plot twist, I cannot tell you, because that indeed would be a major spoiler. Here comes a wave, but it won't take me under.
Add this song to your Spotify playlist, because I believe its going to stay around for a while, just like "This is Me" and "Shallow.
A whole new world of beauty. You ain't never had a friend like Will Smith and princesses speaking out for what truly matters!
It seems, the movie should have been titled "Jasmine" now that truly would get people just as angry as the last season of Game of Thrones.